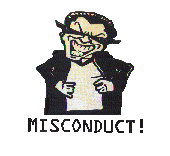 WHY NO UPDATE...
Subject: No Misconduct???

Why not?

You're all too p!ssed up with Caffrey's in your tummies, that's why.


--
Steve. Manchester, England.
http://www.moriarty.demon.co.uk


Yes it is indeed the truth (we discussed whether we were ashamed of this fact ...and it appears that we are not!!) We can exclusively reveal that MISCONDUCT! have in fact found (after months of searching) the exit from the pub! And to our utter amazement we discovered that the off season is nearly over (YIPPEE!) and a computer with a page in dire need of updating (OOOPS!) So here it is... The eagerly awaited UPDATE!

Thankyou Kindly,
MISCONDUCT!


---

STORM SUMMER JOBS SHOKKAAA!

As ever we bring you more exclusives....... the true whereabouts of top (?) Storm players (?)......

Dale Jago is currently working for the C.I.S. (although we are unsure of his exact job, but he is there!)

Brad Rubachuk has almost achieved his lifelong ambition, he is working as a window cleaner in the city centre.

Jeff Sebastian has recently been in all the newspapers, pictured as a guest at Noel Gallagher's wedding (he was the one in the sequinned suit with the geeetar)

Jon Hammond is a double glazing salesman....We also received this mail on the subject...........


Subject: Jon Hammond

Hi, MISCONDUCT! Thanks for a good laugh, thought I'd drop you a line to ask you whether you had seen the really cheeeeeesey ad for President Windows that Jon Hammond is doing. I kept expecting Maaancheeester Stooooorm to come into it somewhere but I was left disappointed, there was not even the traditional bright jacket or luminous shirt, maybe we should ask him if they come in round or square windows.

P.s I loved Ruby's bumfluff, well then I do love anything to do with Ruby, sad I know, but somebody's got to do it especially when he has his red shorts on in Battles on Ice. I have to agree that Bear van Beer is the most stupid woman on t.v, did they pick her because she was a complete air head or what, how can one person be so happy when the team she is supposed to supporting and reporting on, has just had a trouncing off their arch enemies i.e Cardiff or Sheffield.




Thankyou Kindly,
A still sober
MISCONDUCT!


---
MORE MAIL! SHOCKA!
Subject: World Championships (oh and a bit about basketball)

I read your piece about the Championships with interest. One of the reasons for Canada's relatively poor record is that several thousand of their best players play professional hockey around the world and are loth to give up three weeks of their hols to play for their country. While there are some whose teams are involved in chasing the championships in their respective leagues there are a lot more who just want to get out on the golf-course. The reason Canada won this year was that several half-decent NHLers were out of the playoffs early and didn't mind a few extra weeks' work. The guys I feel really sorry for are the "actual" national team, who spend the whole year playing tournaments in the Finnish and Latvian equivalents of Beiseker, Alberta, but are shoved aside during the Worlds (and now the Olympics) in favour of the professionals who are thus given the chance to acquire yet more gongs and glory. Fittingly one of the goals in the final was scored by Dean Evason, the only National Team member on the squad.

With regard to basketball, I can't for the life of me think why they don't just give both teams 80 points and let them play five minutes. It would save time and money all round.

Cheers Stephanie


Subject: storm sad b's

Hi, after reading the complaints letter about the sad b's, it occured to me that the reason they wanted their picture all together and why they travel together, is possibly due to the fact that they share a single brain cell between them, which only allows them to travel together. With people like them is it any wonder that the storm get up so many different teams/clubs noses? If we can't stand them how do they? I'm still waiting to get my season ticket, even though I paid for it a fortnight ago, apparently its in a book form like football clubs, what was wrong with the laminated one? Or was Ogden Leisure trying to play God again by destroying a few hundred trees to make their season tickets. I went to a concert at nynex on sat 7th to see Jean Michel Jarre and it was nice to see that the blue coats can be as obnoxious to concert goers as well as storm fans. One last comment, the reason the two commentators on ITV always talk about the goalkeeper, is that, if I remember rightly Richard Boprey was a goalkeeper, either that or he was an attacker and the other one was a goalie. I think we should keep them and get rid Bear van Beer (Bjork in disguise). Anyway its summer time and my first year at uni is at an end, so, when I am going to back in to chat again I don't know (you're probably saying "Thank God") so, bye bye MISCONDUCT! going to try and sign Simon's guestbook again as his server was down before.

Joanne (Ruby red shorts)




Thankyou Kindly,
An even more sober than we were before
MISCONDUCT!


---

SEBBY "FLYS!" TO THE PANTHERS!

All we can say to this is...."HA HA HA HA! NOW YOU HAVE A SH*T DEFENDER!!!!!!!"

Thankyou Kindly,
MISCONDUCT!


---

MISCONDUCT! GET SERIOUS!

We have followed the Ice Hockey World Championships (courtesy of Sky television) with much interest (as the season is now over). Great Britain unfortunately did not do well...and as usual, we have a theory as to why this happened...and we quote from IHNR ISSUE 16...


Graham Waghorn, Jeff Lindsay and Stephen Cooper are not coming......and that the trio's absence was of their own choosing, adding that he (Peter Woods) felt this left the squad "relatively light in comparison to what we have had in the past in defence". Asked why the three chose not to participate the GB coach was reluctant to be specific but did say : "One player indicated he wasn't available in the sense that there was no remuneration available; two other players indicated that they were carrying injuries and it's been a long season and they just want to put that behind them...
Well, what can you say...whatever happened to patriotism, commitment and loyalty to your country and to your team mates. It should be a privilege to play for your country and not a chore. We think it's absolutely disgusting that three players could not be bothered to finish what they started. Although Mr Cooper did find the time to watch Bryan Adams at the Nynex arena in April (Hey Elvis!, we did see you and the other Elvis there!) We say PAH! to you!

It is a good job that the other 23 men were willing and able to play (even after a longer and harder season was had for most of them).

Thankyou Kindly,
a saddened
MISCONDUCT!


---

THE SAD (OR IS THAT SELFISH?) B'S!!!!!!

We also read in the above mentioned hockey magazine, a letter entitled "Complaints".

Firstly, you already know our feelings on the release of ShaWn Byram...so we'll say no more on that...for now!

The stick sponsors....All 25 of them wanted to go on the ice to collect their stick and from a "security perspective and obviously from a publicity angle", Ogdens said no, "5 people only will be allowed on the ice"...Sad B's said 25 or none at all...they got none at all. The Sad B's then suggested that they go to the second tier of the seating to have the picture taken....How did they expect Finnie, in full netminding gear to get up there!! They were told to go back with another suggestion.....we believe Ogdens are still waiting!

Why on earth they didn't sit on the bench with Finnie stood behind or in front of them is beyond us! or if the problem was that amount of people going downstairs fullstop, then why could they not split up into 5 groups and have separate pictures taken or maybe just let the youngsters have their picture taken with Finnie.....the possibilities were endless and we're sure that a suitable solution could have been reached if the Sad B's had not seen their arses about the entire situation!

They also mentioned in this letter about certain players not giving a damn (we can only assume as it doesn't state clearly what they don't give a damn about) we can only say in defence of the players, that they aren't going to show any gratitude to people who consistently slag them off, home and away while sat within earshot of the players! We can honestly say that we have never actually seen a player say "No" to any fans request (within reason) be it for a signature, picture or kiss!

So they can only be referring to the teams performance...We say:- If the team have gone out and worked their nuts off and still lost "That's the way the mop flops!" There is nothing they can do about it afterwards. What do these people expect...The players to come away from a lost game with a bottle of pills in one hand and a suicide note in the other! Come on you people get a grip on reality and get a life!

Thankyou Kindly,
A FURIOUS
MISCONDUCT!

p.s. You were right in the last part of your letter...NO ONE CARES WHAT YOU THINK! YOU ARE A MINORITY OF SO CALLED "SUPPORTERS?!"


---

giants v STORM

In the Manchester Evening News recently, we read with some amusement, that the Manchester Giants basketball team were being "upstaged" by the Manchester Storm......and the fact that there are more people going to the hockey than the basketball etc. We would like to say (and indeed will say) that if they got an announcer with a personality, a bit of a sense of humour and with more than one tone of voice to get the crowd a little more enthused about the game then maybe...just maybe more people would go.

As you may have gathered, we have been to watch a giant's game (the tickets were free mind) and although it never seemed to want to end....the cheerleaders were there.....there was a rather nifty chant of "De....fence" and they broke the soddin' screen! and after that happened we were on the edges of our seats...Not because the game got exciting...Because there was a Storm match the night after (selfish?..we know but,that was the way it was). The Giants did win though..it made a nice change!

Thankyou Kindly,
a bemused
MISCONDUCT!


---

LAWLESS (THE TOOTHLESS FAIRY) "RELEASED"!

Having been quite taken aback by the "release" of Mr Lawless, we would like to confirm our opinion on this matter:

IT IS THE BEST DECISION SINCE THE "RELEASE" OF SHAWN BYRAM AND MARK PALLISTER!

However, we think two seasons didn't really give the man (?) the opportunity to prove his worth. We think that he maybe should have been given the chance to take the Storm to eighth place. The fact that he purchased several players at the end of December and expected them to win the superleague (or perhaps do better than they did) was a little far fetched.

We would like to take this opportunity to welcome the Kicking K's to Manchester and hope that he can do a little better and instead of standing behind the players chewing gum and looking at his watch he (KK) should motivate the players, just a tad, unlike a certain person, who shall remain "released".

Thankyou Kindly,
a tall
MISCONDUCT!


---

THE STORMFORCE AGM

We attended said meeting (we had very sore heads) for the full three and a half hours.

PAH! To the man who was aiding in the nitpicking of the constitution, may we just point out that the pronunciation of Quorum is "kworum" and not "korum" (you don't call the Queen, the "keen" do you? be concise man!).

We can honestly say that NOTHING was resolved with regard to the away trips (see UK Sport Ice Hockey website) and there wasn't a person in that room (apart from the culprits themselves) who didn't know exactly whom was being spoken of. When the subject was approached no names were mentioned but everybody in the room mouthed the words "the sad b's". Dave Biggar was there armed and ready with his IHNR (issue 16) but the whole subject was conveniently avoided and a new topic was brought up. Well all we can say is that when there are more fans travelling on an alternative and non Stormforce coach then maybe something will be done (if these trips are organised, can we have three tickets please?). However, there was the most triumphant heckler of the day...It was pointed out by a sad b... "you are always going to meet people you don't like" the triumphant (MISCONDUCT!) heckler retorted "not all on the same coach though!". A valid point we felt we had to make. We're sure that you'll have received the full details of the rest of the meeting, courtesy of Stormblitz.

Thankyou Kindly,
watch out or we'll gorgonize at you!
MISCONDUCT!


---

LATE NEWS SHOCKA!

Shawn Byram will return next season........he is the replacement for Colin Downie as Lightnin' Jack! The giveaway will be the number 99 on the back of his cape!......

Thankyou Kindly,
a full of bullsh*t
MISCONDUCT!


---

SUPERLEAGUE PIN-UPS???

We couldn't help but notice in the programme for the Superleague finals, that there were two whole pages devoted to "Superleague pin-ups". We would like to ask the person who chose those particular players as pin-ups, do you get your eyes tested regularly or have you been skipping appointments? Justin (Wonkygob) Duberman? Frank (Adam Pontapee) Kovacs? Perrrrr lease! Jason Jennings, Merv Priest, Peter Romeo and the mighty Stephen Cooper, we can live with (well, we'd like to!) but, the other two....NO! We would like to take this opportunity to say that Trevor Robbins is THE best stretcher we have ever seen for an opposing team! We noticed this at the finals... Nottingham were busy with a face off in their offensive zone...... We were watching the netminder stretch!

THE RUDENESS OF SCOTS! We couldn't help but notice at the finals, that the Fife fans very rudely sang about some flour from Scotland during the playing of the National anthem! (plain or self raising we're not quite sure). We have been to Ayr and never have we interrupted their little ballad and we don't see why they should have to ruin our anthem! We could say more but, we won't... We shall refrain from doing so.

Thankyou Kindly,
an opinionated
MISCONDUCT!


---

BATTLES ON ICE

One question springs to mind:- WHERE ON EARTH DID THEY FIND BEAR VAN BEERS! And we'll have some of whatever she's on! please! We would also like to ask if anyone else noticed that the commentators seem to have a thing about Goaltenders... It was either:- "GOALTENDER DOWN!" or on one occasion:- "GOALTENDER SCORES!" We also noticed that on the episode when Dale Jago was commentating, Bear kept referring to him as "Dill" instead of "Dale" so, from now on Dale will be known as "Dill the Dog" from "The Herbs" and we will sing this song special at him, thus:-

I'm Dill the dog!
I'm a dog named Dill!
My tail I'll love to catch!
Though I haven't caught it yet!

Although this programme was well put together and informative, we believe that we could've presented it MUCH! better than Bear but, that's mainly due to the fact that we actually know what we're talking about!

Thankyou Kindly
an ambitious
MISCONDUCT!


---

STORM IN POOR EYESIGHT SHOCKA!

We believe that the reason for Storm's poor performance this season is mainly due to the fact that half of them can't even see! The prime culprits are:-

Dale (tooms) Jago
Chad (hey arnold!) Penney
Nick (don't pee in my) Poole

MISCONDUCT! can exclusively reveal that not only has John Lawless purchased cripples but, Three blind mice too! So remember, if you ever see these players together, on or off the ice you must sing the nursery rhyme at them!

Thankyou Kindly,
an over exaggerated
MISCONDUCT!


---

THE STORM PLAY OFF BUMFLUFF TOP TEN

As we're sure you will have noticed, come the play offs most players seem to become scruffy sods! (i.e. they stop shaving,having haircuts etc) They foolishly (in our case anyway) believe that this will help them win the play offs! So in honour of their efforts, we have compiled the aforementioned "Top Ten":-


10. STEPHEN (it looked like a dirty smudge) COOPER
 9. JOHN (as above) FINNIE
 8. NICK (it was a brave attempt) POOLE
 7. JEFF (it was short lived) LINDSAY
 6. DILL (pointless really) JAGO
 5. CRAIG (went for the wicksy look) WOODCROFT
 4. CHAD (what were you thinking of) PENNEY
 3. MIKE (hmmm) MORIN
 2. BRAD (fungus face) RUBACHUK
 1. ERIC (the mexican bandit) CALDER
So there it is folks..Our compilation of "The Good, The Bad & The Ugly!"

Thankyou Kindly,
a diligent
MISCONDUCT!


---

HOT OR COLD

We've had these e-mails so far, regarding our identities :-


Right here we go....Process of elimination time...
You (or one/some of you) are either:

Jacqui Rose
Your surname is Elias
Claire
Domonique
Rebecca Clough
Anne-Louise Leahart
Natalie
Stephanie
Cath/Gemma O'Gordon
The Scott family
Carole Worsley
Marie Jackson
The Mills family
Rhys Deas
Marie Hindley
Charlotte Robinson
Vicki Shazell
Emma
Donna
Katy
Amy
Barbara Clifford
Helen Mulhall
Judith
Julie
Kelly Russell
Joanne
Nicki Williams
Kayley May
Nicki/Emma/Dawn/Gaynor
Nicola Dowling


OK, I haven't exactly narrowed it down THAT much!!!!!

Simon S-M



You can cross Rhys Deas off the list - that isn't you!

Simon



I've just read THE SHOWER CAP fanzine.
It's you - it must be. Either that or there are a lot of coincidences out there!!!
Come on - admit it!!!

Simon



Have just discovered you in a secret hidden corner of Inter the Storm, how long have you been there?
You seem to have been following me around to all of the events and making the exact same observations.

Caution! people may start to associate you with the sad B's!!!

LIZ


Thankyou Kindly
A top secret
MISCONDUCT!


---

It has been brought to our attention that we are "The Sun" of the internet, therefore, everything we write from now on, will be known as a "shocker"!

GUESS WHO MISCONDUCT! ARE SHOCKER

If you can guess who we are, you could win yourself.......1 pint of the magical THOMAS CAFFREY'S.......alternatively, we will reveal our true identities, when and only when...........all the Storm players show their arses on the town hall steps, in number order and presented by Jon Hammond!

Thankyou Kindly
A mysterious
MISCONDUCT!


---

ELVIS ARON PRESLEY EXCLUDED FROM TOP TEN STORM BABES SHOCKER!

It would appear, that all previous comments have provoked very little response..until now!

We were forwarded this mail by Simon. (incidentally our e-mail address is at the top of this, very page - Editor's note - no it isn't...it's on the Index page!).


Colin Downie's new nickname Colin 'benchwarmer' Downie.

Has anyone seen the list of 'babes' on the Misconduct page on Inter The Storm, my friend was most surprised that Jeff Sebastian wasn't on there any ideas why?

Bye
Heather

The reason Elvis Aron Presley was not included in our " Top Ten Storm Babes" is very simple....we don't find him in the least bit attractive! It was the MISCONDUCT! team's Top Ten and nobody elses! However, if you send your votes for a "Democratic Top Ten Storm Babes" we will be happy to compile it, the e-mail address is...jilly@polycomp.demon.co.uk.

If you were wondering why we are referring to Jeff Sebastian as "The King"..... read on!

Thankyou Kindly
MISCONDUCT!


---

THE TOP TEN STORM TARTS

By TARTS we mean all those players who, through no fault of their own, are accosted by girls/women every time they leave the sanctuary of their little room at the Arches! (The ones who make it worse for themselves appear at the top of the charts).


10) JOHN (BELIEVE IT OR NOT) LAWLESS
 9) TIM (I'M STILL INTERESTING) DEMPSEY
 8) BRAD (EVEN BIGGUS DIKUS) TURNER
 7) MIKE (SQUEAK) MORIN
 6) MARTIN (BIGGUS DIKUS) SMITH
 5) CRAIG (YOU'RE MY FAVOURITE DEPUTY) WOODCROFT
 4) BRAD (WE'VE READ ABOUT YOU!) RUBACHUK
 3) STEPHEN (ELVIS) COOPER
 2) NICK (ELVIS ARON) POOLE
 1) JEFF (ELVIS ARON PRESLEY) SEBASTIAN
The prize for the Top Tart is a time travelling Brussels Sprout named Barry!

For the reasons behind "The Three Kings Of Manchester Storm" (and yes it fits in with the carol...we've tried!) see previous article "Cooper in need of new head gear shocker". For the reason behind Martin Smith and Brad Turner's new nicknames... see Thunder and Lightning Issue 2.

Thankyou Kindly
a well read
MISCONDUCT!


---

[Back to MISCONDUCT! Index page]
---
These pages are maintained by Simon Sandiford-Mitchell and hosted by U-Net.